One last offering from the Neuropathic Pain Meeting in Nice – first sent as an email to the NeuPSIG special interest group. To join NeuPSIG, click here.
PCP – CNS or PNS? GLM covers 2SS – the SBS & the SSS present ATS @ NSM in SNS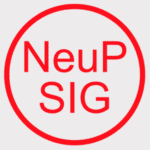 Too many acronyms are hardly enough, but this session at NeuPSIG 2015 had much much more than a whole lot of acronyms.  In what should be the final post from NeuPSIG 2015 at Nice, we give a two-sided rundown of the 'debate' about the notion that "Chronic pain is a brain thing." On the affirmative was one of the true heavyweights of the NeuPSIG community – weighing in at 360 publications, a cool 18,000 citations, and a vast collection of very expensive shirts – Professor Tony Dickenson from University College London.  Arguing the negative – and more specifically that it is the PNS that is critical, was pain science's Seve Ballesteros (widely regarded as having the most elegant golf swing in history and who changed the face of the sport in his twenties) – Professor Jordi Serra, a Barcelona guy now at King's College Hospital, London.
Tony, sporting a particularly brainophylic shirt, acknowledged the time-honoured case-in-point of the magnitude of pain often being unrelated to the degree of peripheral pathology, and dived into the empirical data from animals and humans to argue his case.
He did not contest that the periphery can provide a range of nociceptive input into the CNS, but emphasised that it is central mechanisms that transform that input into a personal pain experience; an experience with clear emotional content. "The periphery provides the basic ingredients but the spinal cord can nullify those messages. Descending inhibitions from the brain can switch off nociception, something illustrated by placebo-based experiments."
Perhaps of more import were the data he showed regarding the facilitatory power of the brain over spinal nociception – the brain can, and does, amplify nociception at a spinal level. Chronic pain sees the CNS switch to a state of spinal hypersensitivity, which generates allodynias; the descending control pathways shift to excitation not inhibition; the brain changes its internal conversations. As a result of this complex suite of events, pain and co-morbidities ensue. 
His main point was that these are all central events and many therapies for pain act to normalise these central events. Sure, peripheral mechanisms can generate nociceptive inputs – there is no doubt about this – but those inputs are neither sufficient nor necessary for the complex, unpleasant and distressing pain experience that occurs.
Jordi, sporting a rather more brainophobic shirt but oozing continental style simply not possible from those over the channel, also stressed that the brain is a necessary ingredient for the experience of pain. As far as we know, all conscious experiences take part in this part of the nervous system, but for him this is not the question being discussed here. The question is to decide whether the CNS, in chronic peripheral neuropathic pain, can become the sole, or even the main, source of the neural signals (i.e. the action potentials) that are the substrate for all sensory experience. Here Jordi was emphatic – no! He argued that the main input is coming from diseased peripheral nociceptor axons that become hyperexcitable and engage in spontaneous generation of action potentials. But he was by no means all style no substance – he presented compelling neurophysiological data from his group and others, obtained in real live humans. Sure, he acknowledged that the brain "modulates" these signals. Nobody contests that focusing attention away from pain makes it less, but he bets that whoever is capable of stopping those incoming signals will have the perfect analgesic for peripheral neuropathic pain, and that modulation of "inhibitory and facilitatory" CNS pathways will never do the trick.    
The winner? Science. Both of these guys are compelling and absolute heavy weights in the field and despite the divergence in the debate, it was clear that much of their perspectives converge too. Such is the field – we have a long way to go here – I heard one disgruntled immunophile lament the absence of 'his system' in the debate – but meetings like NeuPSIG 2015 in Nice are a critical cog in the machine of discovery and, in the pursuit of better outcomes for people in pain.
I am sure you will agree, time to put NeuPSIG 2017 Gothenburg in your diary NOW.
Thanks to Tony and Jordi for writing the bulk of this.
*GLM = G Lorimer Moseley, Professor of Clinical Neurosciences, University of South Australia and Neuroscience Research Australia.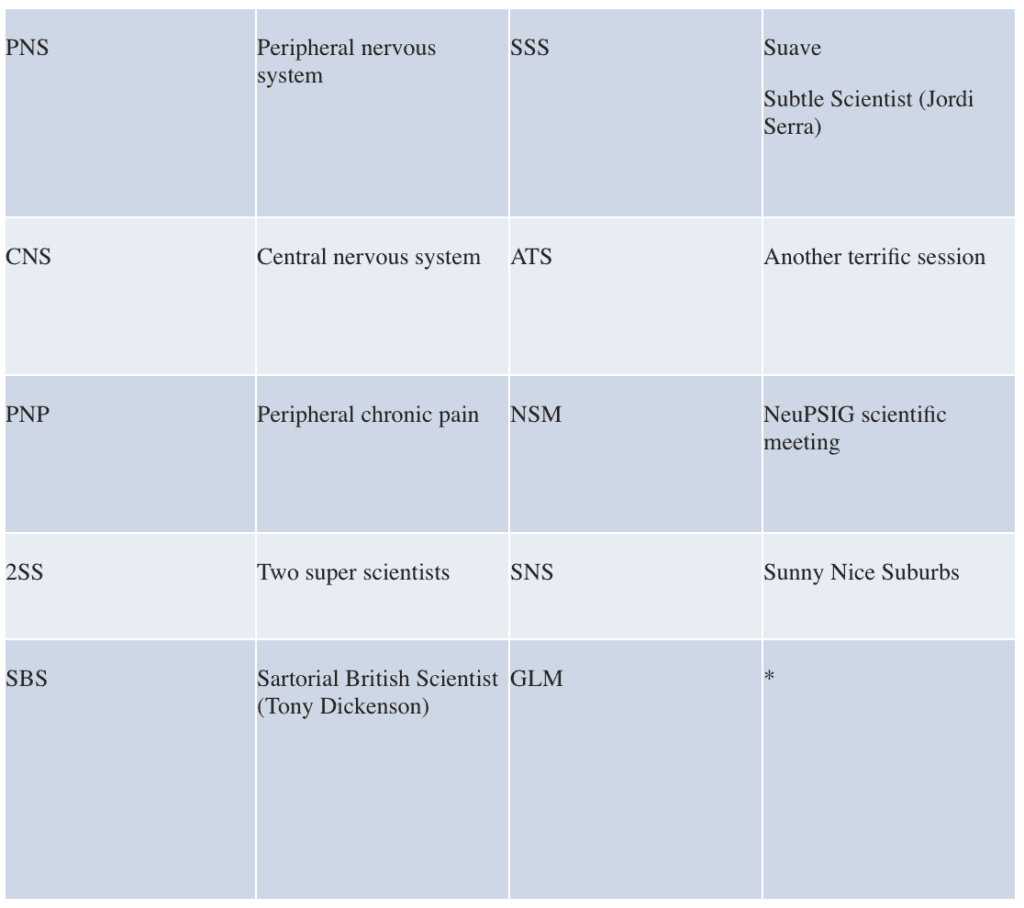 About Lorimer Moseley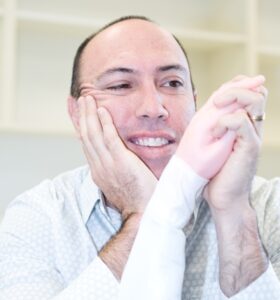 Professor Lorimer Moseley is a clinical scientist investigating pain in humans. After posts at The University of Oxford, UK, and the University of Sydney, Lorimer was appointed Foundation Professor of Neuroscience and Chair in Physiotherapy, The Sansom Institute for Health Research at the University of South Australia. He is also Senior Principal Research Fellow at NeuRA and an NHMRC Principal Research Fellow.
He has published over 200 papers, four books and numerous book chapters. He has given over 140 keynote or invited presentations at interdisciplinary meetings in 30 countries and has provided professional education in pain sciences to over 10,000 medical and health practitioners and public lectures to as many again. His YouTube and TEDx talks have been viewed over 200,000 times.
He consults to governmental and industry bodies in Europe and North America on pain-related issues. He was awarded the inaugural Ulf Lindblom Award for the outstanding mid-career clinical scientist working in a pain-related field by the International Association for the Study of Pain, was shortlisted for the 2011 and 2012 Australian Science Minister's Prize for Life Sciences, and won the 2013 Marshall & Warren Award from the NHMRC, for the Best Innovative and Potentially Transformative Project.
Link to Lorimer's published research here. Downloadable PDFs here.