A key question, of significant therapeutic consequence, regarding the neural mechanisms of chronic neuropathic pain is whether it is maintained by input from the periphery or by independent, central (spinal or supraspinal) generators.  In a recent issue of PAIN, two research groups reported their observations that suggest that input from primary afferent nerve fibers, that is, peripheral generators, plays an important role in the maintenance of chronic pain (Haroutiunian et al. 2014;Vaso et al. 2014).
Haroutiunian and coworkers observed that a local anesthetic peripheral nerve block induced complete relief of ongoing, spontaneous pain in all 14 patients with pain secondary to a traumatic peripheral nerve injury (PNI) or distal symmetric polyneuropathy (DSP).  In contrast, an intravenous infusion of lidocaine resulting in 8.5 times higher plasma concentrations than that after the nerve blocks had only a small effect on their pain. While this study provides evidence that this spontaneous pain is maintained by a peripheral mechanism, it could not investigate the role of central sensitization in the mechanisms of allodynia,  e.g. by investigating allodynia to cutaneous stimuli, due to the complete peripheral fiber block.  Although the study lacked a placebo group, the total relief of pain in all subjects within a short duration of the nerve blocks suggests that the response is unlikely due to a placebo effect. Vaso and colleagues examined whether the DRG plays a crucial role in maintaining phantom limb pain (PLP) in lower limb amputees, using intrathecal and intraforaminal anesthetic blocks.  All, except 1 of 28 patients, experienced a substantial (>75%) reduction of the PLP. The study provided additional evidence to suggest that inhibition of spike initiation at the DRG rather than conduction block accounted for the observed pain relief.
Both studies suggest that a central, independent 'pain' generator did not develop in these patients, despite having pain for a prolonged duration. The studies also suggest that the location of the pain generator may vary depending on the etiology, e.g., in the peripheral distal axon in PNI or DSP, and the DRG in PLP. While these studies do not write off a role for central mechanisms in spontaneous neuropathic pain, the results underscore that central changes by themselves may be insufficient to generate chronic pain. An implication of these reports is that interventions which target peripheral afferents or new drugs primarily aimed at suppressing the enhanced activity in the peripheral nervous system are worthy of further investigation.
About the authors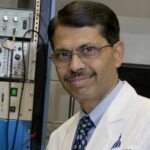 Srinivasa N. Raja, M.D. is Professor and Director of Pain Research and the Division of Pain Medicine in the Department of Anesthesiology and Critical Care Medicine, and Professor in the Department of Neurology at Johns Hopkins Medicine.
Dr. Raja received his early medical training in India, his residency training in Anesthesiology at the University of Washington, Seattle, and post-doctoral training at the University of Virginia School of Medicine in Charlottesville. He was awarded the Diplomate of the American Board of Anesthesiology in 1982, and added Qualifications in Pain Management in 1993, and was recertified in 2002.
His clinical interests include management of chronic neuropathic pain states, such as sympathetically maintained pain and complex regional pain syndromes (CRPS, causalgia), postherpetic neuralgia, and post-amputation pain. His recent research efforts are aimed at understanding the peripheral and central mechanisms of neuropathic pain and in determining the role of opioid and adrenergic receptor mechanisms in mediating or maintaining chronic neuropathic pain states. He has also conducted controlled clinical trials to develop better evidence-based practices for the pharmacological treatment of neuropathic pain. His research has also focused on understanding the predictors of persistent post-surgical pain and the factors involved in the transition from acute to chronic pain after trauma and surgery.

Matthias Ringkamp is an Associate Professor in the Dept of Neurosurgery, School of Medicine at the Johns Hopkins University.
Since his graduate studies at the Department of Physiology the Universityof Erlangen-Nuremberg, Germany, his research interests include the neurobiology of nociceptive afferents and peripheral neuronal mechanisms of neuropathic pain. The peripheral mechanisms that underlie the encoding of itch and pain are another focus of his research.
In his research he uses psychophysical techniques to investigate the role of different nerve fibers in sensation in human and electrophysiological techniques to record neuronal activity from nociceptive afferents.
References
Haroutounian S, Nikolajsen L, Bendtsen TF, Finnerup NB, Kristensen AD, Hasselstrøm JB, & Jensen TS (2014). Primary afferent input critical for maintaining spontaneous pain in peripheral neuropathy. Pain, 155 (7), 1272-9 PMID: 24704366
Vaso A, Adahan HM, Gjika A, Zahaj S, Zhurda T, Vyshka G, & Devor M (2014). Peripheral nervous system origin of phantom limb pain. Pain, 155 (7), 1384-91 PMID: 24769187
Ringkamp M, & Raja SN (2014). A sore spot: Central or peripheral generation of chronic neuropathic spontaneous pain? Pain, 155 (7), 1189-91 PMID: 24928202