Although pain is inherently linked to one's own body, for people suffering from limb amputation, pain can be experienced as arising from outside the body – from their missing limb. This phenomenon, termed phantom limb pain, is estimated to occur in 4 out of 5 upper limb amputees, and therefore poses a significant medical problem. Phantom pain can be extremely debilitating, and is notorious for being difficult to treat with conventional medicine, probably due to our insufficient understanding of its underlying causes. The unusual challenge that we face in treating phantom pain is that the pain arises from a part of the body that no longer exists. Treatment designed to specifically target the neural mechanisms underlying phantom pain is therefore necessary in order to develop successful treatments with minimal side effects.
Phantom pain is currently thought to be driven by  brain changes in body representation, triggered by loss of input from the missing hand. In animals, loss of input to the brain's hand area (e.g. following amputation) leads to re-distribution of brain resources (termed brain plasticity, or reorganisation). Intuitively, you might expect that the brain's ability to reassign resources across body parts based on altered demand should be helpful, and perhaps even allow amputees to better adapt to their disability. But according to the theory of maladaptive brain plasticity[1], reorganisation in the adult brain at this scale is harmful. It is thought to cause a mismatch between new facial inputs and other signals relating to the original affiliation of the area, resulting in an "error" signal that is interpreted by the brain as pain, arising from the missing hand.
The theory for maladaptive brain plasticity has been extremely influential, not only in the neuroscience community, but also for clinicians. Over the years it has been expanded in an attempt to explain other neuropathic pain conditions, such as complex regional pain syndrome. Beyond insights into the soft wiring of the brain, this theory provides clear predictions on how best to treat phantom pain: if pain is caused by maladaptive reorganisation, then to alleviate phantom pain we need to reverse it. One popular approach attempts to do this by "reinstating" the representation of the missing hand to its original territory, using illusory visual information about the missing hand (mirror box therapy).
The theory of maladaptive brain plasticity has been supported by multiple studies over the years, using converging techniques. These studies all demonstrate a statistical relationship between the subjective experience of phantom pain and shifts in representation of other body parts (most commonly, the lip). However, in order to demonstrate maladaptive plasticity, it is important to determine whether this new representation (e.g. lips) actually invades the cortical territory of the missing hand. In my own work, I previously showed that, despite hand amputation, representations relating to the phantom hand persist in the brain. The amputees suffering from worst phantom pain seemed to have more preserved structure and function in the missing hand's brain area. If input is not lost to the hand's brain area, how is maladaptive plasticity triggered?
In the current study, involving 17 amputees and 21 control participants, we wanted to assess shifts in amputees' lip representation more carefully.[2] We used measurements that take into consideration the unique architecture of each participant's brain, in order to provide an accurate measurement of lip shifts. As previously reported, we found that, in the side of the brain directly affected by the amputation, the representation of the lips was shifted. The direction of this shift was towards the hand area. However, although statistically robust, the magnitude of the shift was much smaller than previously reported. It amounted to 8mm, on average (for comparison, in healthy controls the representation of the hand was some 60mm away from the lips). It appears that, while reorganisation of lips occurs in the brain following amputation, it doesn't necessarily involve the missing hand's territory. So what happens in the brain territory of the missing hand following amputation? This question still remains open. I believe it is an essential piece of the puzzle that needs to be solved (see some recent studies on adaptive brain plasticity [3-5]).
Despite multiple attempts and measurements, we were unable to identify a statistical relationship between subjective ratings of phantom pain and measurements of lip reorganisation. While this might appear to provide further evidence against the maladaptive theory, it is important to consider the limitations of interpreting this null result. The lack of evidence shouldn't be taken as evidence in itself. However, given the dominance that the maladaptive theory has enjoyed for the past two decades, and given the challenge of publishing non-significant findings, it is important to encourage further evidence that critically assess the relationship between cortical reorganisation and pain.
And what about the efficacy of treatments inspired by the theory of maladaptive brain plasticity? To support this theory, one should demonstrate that phantom pain is alleviated by therapies that increase representation of the missing hand and/or decrease representation of the displaced body part in the missing hand area.  Since I'm not a clinician I only have second-hand knowledge on this topic, and would love to get your feedback. Also, because no standard treatment currently exists, indirect and even placebo effects may be also useful for a clinical population in need.
About Tamar Makin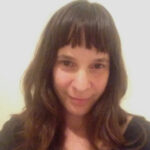 Tamar is an Associate Professor at Oxford University's Neuroimaging centre (FMRIB Centre). Her group studies the consequences of arm amputation on human brain plasticity. Tamar joined the FMRIB Centre in 2009, first as a Newton International Royal Society Fellow and subsequently as a Marie Curie Intra-European Early Career Development Fellow. She is currently a Wellcome Trust/Royal Society Sir Henry Dale Fellow.
References
[1]  Ramachandran VS, Altschuler EL. (2009 The use of visual feedback, in particular mirror visual feedback, in restoring brain function. Brain 132; 1693–1710
[2] Tamar R. Makin, Jan Scholz, David Henderson Slater, Heidi Johansen-Berg, Irene Tracey (2015). Reassessing cortical reorganization in the primary sensorimotor cortex following arm amputation. Brain in press
[3] Makin TR, Cramer AO, Scholz J, Hahamy A, Henderson Slater D, Tracey I, Johansen-Berg H. (2013) Deprivation-related and use-dependent plasticity go hand in hand. Elife 2:e01273
[4] Hahamy A, Sotiropoulos SN, Henderson Slater D, Malach R, Johansen-Berg H, Makin TR. (2015) Normalisation of brain connectivity through compensatory behaviour, despite congenital hand absence. Elife : 4:e04605
[5] Philip BA, Frey SH. (2014) Compensatory changes accompanying chronic forced use of the nondominant hand by unilateral amputees. J Neurosci. 34(10):3622-31