It has been a big year for all of us here at BiM Sydney and BiM Adelaide.  We have, on the whole, had what can only be described as a rippa. We established the BiM Adelaide group from about February, when Lorimer and his family relocated. 2011 recruits were Abby, Tasha, Hayley, Jane, Laura, Mark, Carolyn, Tracy, John and Gaynor. We have decked out the Adelaide digs.  Tasha remains the table tennis champion although Abby would consider herself hard done by to not have the title. Jane's mate Sam is trying to claim it on one very strong performance but has been notably shy ever since.
We have set up the Laser lab and the thermal stimulation lab and the place is running hot with eager volunteers doing their thing for science. Luke and Flavia have taken blood from 180 wrist fracture patients and, with James, have expanded the study to two new hospitals. Flavia has scanned some brains too. We have knocked the wind out of five systematic reviews; collected all the data for 12 experiments and have several more on the go; we have published 25 papers in journals including Lancet Neurology, Current Biology and Pain; we have given 25 conference presentations and visited 8 countries; BodyinMind.org has had 103 posts from 27 writers in six countries, about 10,000 unique visitors a month and 2,300 facebook followers. Laura & Jane graduated with first class honours and glowing, gobsmacked, reports from examiners. Jane's mum made us all lunch. BiM and NOI had a 3-all draw and Carolyn got a black eye in the inaugural football derby.
I could carry on – there are many other exciting and wonderful things about which we, as a group, are pretty chuffed.  Next year is looking even better – Abby will be back with a very posh fees and stipend UniSA scholarship to do her PhD in collaboration with Dr Mick Thacker at King's College London. Laura too will be back – she got a very posh Australian Commonwealth PhD scholarship, as did Daniel Harvey who will be on board from February. Audrey Wang nailed the very competitive Australian Pain Society PhD scholarship and will join the Sydney team to further our work on CRPS after fracture. Simon Tu will also be joining the Sydney team for his honours year. We are thrilled that Dr Owen Churches will be joining the team in the new year, setting up the EEG lab and bringing a whole new capacity for physiological intrigue. We will be hosting Dr Ann Meulders, Professor Charles Spence, Dr Mick Thacker, Nick Oltholf & Dr Giando Iannetti at different times in the year.  We are excited that the inaugural Ride for Pain will be happening on April 29th with 4 distance options and the first ever Corkscrew Pain Challenge.
On a personal note, I am thrilled to be a part of all this. I am stoked to have the privilege to work alongside such a great team of clever, enthusiastic, considerate, respectful, talented, humble and altogether top-shelf people, who are tolerant of my rather non-academic-like work-life balance choices, and patient with my detesting of washing dishes after lunch.  I am particularly grateful for the amazing support that BodyinMind.org receives from you all – we think it is the underdone part of scientific endeavour and we really want to make it work – thank you very much indeed. Of course, relief.news would die immediately if Heidi did – thanks Heidi for doing a stellar job of chasing authors and posts and keeping it all together. Thanks in particular to Neil OConnell at Brunel for so many excellent posts. Australia goes to the beach for a month about now so we will be a bit quiet, but stay tuned – 2012 is looking grand.
About Lorimer Moseley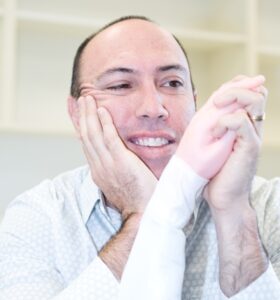 Lorimer is NHMRC Senior Research Fellow with twenty years clinical experience working with people in pain. After spending some time as a Nuffield Medical Research Fellow at Oxford University he returned to Australia in 2009 to take up an NHMRC Senior Research Fellowship at Neuroscience Research Australia (NeuRA). In 2011, he was appointed Professor of Clinical Neurosciences & the Inaugural Chair in Physiotherapy at the University of South Australia, Adelaide. He runs the Body in Mind research groups. He is the only Clinical Scientist to have knocked over a water tank tower in Outback Australia.
Link to Lorimer's published research here. Downloadable PDFs here.