It's summer time in the northern hemisphere and we thought it would be a good idea to look back over the years and post some crackers.  This one is particularly apt for you folks currently in a heat wave.
Mosquitoes, or mozzies as we would call them here in Australia, come out at night. I know this in part because I have witnessed the massacre of my good friend Donaldo Becoccini on a fateful evening in Yellow Waters Kakadu -truly one of the planet's special places (we found this photo on the web – it is by Mike Jones and he has some excellent photographs you should check out).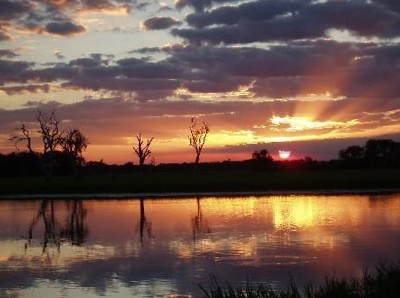 I think Donaldo was officially anaemic when morning arrived and his mozzie net (probably better called an eagle net by virtue of the expansive holes through which even the most lardy of mozzies could meander) was decorated with dozens of chubby snoozing mosquitoes hanging upside down in post feastal stupor.
Another thing that often comes out at night, at least here in Australia, is beer. Well – be careful from hereon in because you have been warned – drinking beer attracts mosquitoes – at least it attracts mosquitoes that carry malaria. Check out this very cool study and think of a better experiment to volunteer for. Rather than ramble on about it here, the paper is well written for punters so take a look. If you can't be bothered, here is the jist of it: the researchers took body odours and exposed them to mosquitoes and measured how keen the mosquitoes were on the odour. Drinking water made no difference but drinking beer did. It is a fairly simple result and PLoS One does not usually publish stuff that is scientifically fragile.
I wonder if we need to replicate this to see if wine makes a difference. Or chocolate. Big fat barbecued sausages…deep fried mars bars – are mosquitoes a problem in Edinburgh? Golden North Honey Ice Cream……the options are endless – I might sign up as a perpetual volunteer. Here is the abstract and link to the article.  Heidi has just told me that this has nothing to do with pain – clearly she has never had a night out with Australian mosquitoes….
Abstract
Background
Malaria and alcohol consumption both represent major public health problems. Alcohol consumption is rising in developing countries and, as efforts to manage malaria are expanded, understanding the links between malaria and alcohol consumption becomes crucial. Our aim was to ascertain the effect of beer consumption on human attractiveness to malaria mosquitoes in semi field conditions in Burkina Faso.
Methodology/Principal Findings
We used a Y tube-olfactometer designed to take advantage of the whole body odour (breath and skin emanations) as a stimulus to gauge human attractiveness to Anopheles gambiae (the primary African malaria vector) before and after volunteers consumed either beer (n = 25 volunteers and a total of 2500 mosquitoes tested) or water (n = 18 volunteers and a total of 1800 mosquitoes). Water consumption had no effect on human attractiveness to An. gambiae mosquitoes, but beer consumption increased volunteer attractiveness. Body odours of volunteers who consumed beer increased mosquito activation (proportion of mosquitoes engaging in take-off and up-wind flight) and orientation (proportion of mosquitoes flying towards volunteers' odours). The level of exhaled carbon dioxide and body temperature had no effect on human attractiveness to mosquitoes. Despite individual volunteer variation, beer consumption consistently increased attractiveness to mosquitoes.
Conclusions/Significance
These results suggest that beer consumption is a risk factor for malaria and needs to be integrated into public health policies for the design of control measures.
Reference
Lefèvre T, Gouagna LC, Dabiré KR, Elguero E, Fontenille D, Renaud F, Costantini C, & Thomas F (2010). Beer consumption increases human attractiveness to malaria mosquitoes. PloS one, 5 (3) PMID: 20209056