Translating research into clinical practice is a challenge for researchers in all fields. I work in the UK and funding bodies here appear to be keenly aware of this, and are increasingly providing opportunities to engage with this challenge through dissemination activities and improved research-clinician engagement, for example.
Our group at the University of Oxford, was awarded funding to run an implementation project to enhance and evaluate the clinical roll-out of the Back Skills Training (BeST) programme for people with low back pain (LBP). This programme uses cognitive behavioural techniques to increase physical activity levels in patients with LBP. It consists of one individual assessment session followed by 6 group based, weekly sessions. The programme was tested in a clinical trial (n=701 participants) and outcomes were collected for 85% of participants at 12 months post intervention. Statistically significant clinical improvements were reported on our primary outcomes of disability and pain. The programme was estimated to be cost effective.[1]
Since publication of the clinical and cost efficacy of the BeST programme back in 2010,[1] our group has been developing an online training package (iBeST) for therapists treating LBP. To inform the development of this package we conducted:
1) A systematic review of online training interventions for clinicians (paper in preparation);
2) A mixed methods analysis comparing competency, knowledge, self-efficacy, attitudes and satisfaction between online versus face-to-face BeST training for clinicians (in press). This qualitative work provided specific recommendations for optimising iBeST; and
3) A qualitative exploration of physiotherapists currently running BeST groups (paper in preparation). This helped to identify barriers to implementation, such as therapists' initial lack of confidence, patient expectations of biomedical care, and practical constraints (e.g. time commitments, space for group sessions, administration).
The information gathered from these three studies was used to develop an optimised online training package.
iBeST was launched for UK NHS employees in March 2016 and can be accessed for free at backskillstraining.co.uk.
We are collecting data from participating therapists, pre- and post- completion of the online training. This includes both the number of enrolments and process measures, such as competency, knowledge and attitudes/beliefs. We are also monitoring registration and completion rates, and intentional/actual implementation reporting using the iBeST site.
Once therapists have completed the training they are invited to participate in a service evaluation project. We provide advice, patient group materials and data collection packs to enable therapists to roll-out BeST across their sites. As well as consent, therapists are asked to collect pre and post course questionnaires from patients to evaluate pain, function, recovery and satisfaction. These are sent back to us, allowing us to follow-up with patients at three and 12 months.
Patients can access a complementary patient facing tool here.
We intend to analyse the data and produce overarching UK and individual site level reports to help inform future implementation decisions. In addition, we will be collecting information from participating sites to inform a health economic model, allowing us to better predict the economic implications of the back skills training intervention in clinical practice.
We are looking to encourage therapists to register at www.backskillstraining.co.uk for the online training and for sites to register their interest in the service evaluation project by contacting contact@backskillstraining.co.uk .
iBeST is currently only available to UK NHS staff, but in the near future we will be able to offer this training package to all therapists internationally, so please feel free to register your interest with us.
For more information or to feedback on our implementation project plan please email contact@backskillstraining.co.uk or visit www.backskillstraining.co.uk .
About Bethany Fordham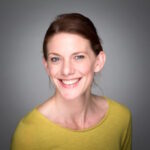 Dr Beth Fordham works at the Centre for Rehabilitation Research in Oxford as a Psychology Fellow. Her work includes integrating health psychology theory and interventions across multidisciplinary studies.  Her focus is on unpacking the mechanisms of action within stand-alone and adjunct psychological interventions in order to improve the extrapolation of research to clinical implementation.
Beth is currently working on the Back Skills Training National implementation project and Dementia and Physical Activity trial.
Reference
[1] Lamb SE, Hansen Z, Lall R, et al. Group cognitive behavioural treatment for low-back pain in primary care: a randomised controlled trial and cost-effectiveness analysis. Lancet 2010;375(9718):916-23.