The First World Congress on Abdominal and Pelvic Pain was held in Amsterdam recently.  Having attended several pain conferences in the past, I curious how the joint effort of the International Pelvic Pain Society, Convergences in Pelviperineal Pain and the Pain of Urogenital Origin special interest group of the International Association for the Study of Pain, would shake out.  The first 2 days were quite good, with only 3 mentions of 'pain signals' and several mentions of the good works by Butler and Moseley.
Dr. Melissa Farmer from Northwestern University was up to give a talk entitled Neuromodulation and abdomino-pelvic pain.  I was familiar with Dr. Farmer's work with the mouse models of persistent vulvar pain following repeated vulvovaginal fungal infections, so I was excited to see what new things she was working on.
Dr. Farmer's 2nd slide had me hooked:  A beautiful picture of the human body without a head and the title:  We have decapitated pain.  If clinicians are going to attach the brain back to the bits that hurt, we need to understand more about what is going on in the brain.  There are measurable changes in the brain that can be seen with various imaging techniques:  Changes in cerebral blood flow in 5-7 seconds, re-consolidation of a learned fear memory in 24 hours, measurable changes in grey matter (neuronal) density in weeks or months, and measurable changes in white matter (axonal) microstructure in days or weeks.  What this means is that functional changes can actually result in measurable changes in the brain overtime.
Visceral pain patients show unique patterns of brain activity during provoked and spontaneous pelvic pain, depending on the specific label (irritable bowel vs. painful bladder syndrome vs. chronic pelvic pain).  However, if we lump all of the pelvic pains together, a pattern emerges.  Similar changes are noted in the anterior cingulate cortex and the insula for all chronic pelvic pain syndromes.  Using Diffusion Tensor MR-Imaging enabled the study of human brain white matter.  It was noted in this study that global white-grey matter relationships are disrupted across chronic pain conditions.
So what's the time frame for this structural re-wiring?  Nociceptive structures change over the course of 10 weeks, and reward circuitry changes over 30 weeks.  The global neuronal structure changes over 10 years (at least….).
So what does all of this mean??  What can I tell my patients on Monday??  Dr. Farmer had an easy to understand answer:  It's like 6 degrees of Kevin Bacon.  The brain is a network, which is connected and interconnected a billion different ways.  It's those connections that can give a particular input a particular meaning.   Learning to live with pain is a challenge.  But understanding the 'input' (nociception) and the resulting emotion is not an absolute, and knowing that the brain can change can be a very powerful lesson for a person in pain.
About Sarah Haag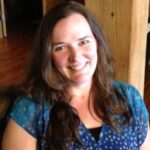 Sarah is a practicing physiotherapist at Entropy Physiotherapy and Wellness in Chicago, IL.  She enjoys treating patients who think they can't get better.  She spends her free time trying to catch up on emails, learning to teach yoga, and attempting to grow as many different kinds of tomatoes as she can despite the fact she doesn't have a garden.
References
Farmer MA, Baliki MN, & Apkarian AV (2012). A dynamic network perspective of chronic pain. Neuroscience letters, 520 (2), 197-203 PMID: 22579823
Farmer, M., Taylor, A., Bailey, A., Tuttle, A., MacIntyre, L., Milagrosa, Z., Crissman, H., Bennett, G., Ribeiro-da-Silva, A., Binik, Y., & Mogil, J. (2011). Repeated Vulvovaginal Fungal Infections Cause Persistent Pain in a Mouse Model of Vulvodynia Science Translational Medicine, 3 (101), 101-101 DOI: 10.1126/scitranslmed.3002613