The PRF-ISPP 2023 Correspondents Program is a unique scientific communication training program that provides early-career pain investigators – including undergraduate students, graduate students, and postdoctoral researchers – with the knowledge, skills, and best practices needed to communicate science effectively to a wide range of pain researchers, patients, and the greater public.
This particular cycle will focus primarily (but not exclusively) on providing coverage for the upcoming International Symposium on Pediatric Pain 2023 (ISPP), taking place in Halifax, Canada, 1-4 October 2023.
The PRF-ISPP 2023 Correspondents Program has been made possible through generous contributions from Solutions for Kids in Pain (SKIP) and the Centre for Pediatric Pain Research (CPPR).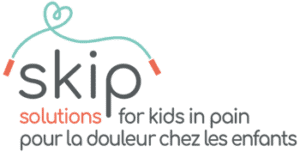 Working closely with the PRF editors, successful applicants will gain valuable science communication experience by:
Conducting interviews with pain researchers and advocates.
Writing news stories or summaries of talks.
Creating other content, such as blog posts.
All content generated by participants will be published on the Pain Research Forum and/or RELIEF News, PRF's companion site for the general public.
By participating in the PRF-ISPP 2023 Correspondents Program, you will:
Improve your oral and written communications skills.
Develop the ability to write for a wide range of audiences.
Learn how to effectively revise and edit your work.
Generate content for publication on PRF and/or RELIEF News.
Share ideas and disseminate knowledge of pain research to experts and non-experts alike.
Gain skills that are relevant and transferable to other types of science communication.
Acquire the tools you need to make science communication part of your future career.
Have the potential to write for PRF and RELIEF News after the program has concluded.
Increase your visibility as a science communicator with diverse publications.
Additionally, applicants selected to participate in this program will have their ISPP 2023 registration fees reimbursed.
Program Requirements
Participants in the PRF-ISPP 2023 Correspondents Program must be available to:
Attend the International Symposium on Pediatric Pain 2023.
Attend two conference calls over the course of the program.
Conduct an interview with a pain researcher/advocate (published as a written interview or podcast).
Write a news story or a meeting lecture summary, or create a data visualization.
Write a series of blog posts.
All assignments will have specific deadlines that all participants will be expected to meet.
The program will last approximately 2-3 months and is designed so that you can complete it alongside your research and other obligations.
Application Process
To apply for the PRF-ISPP 2023 Correspondents Program, please submit a brief description (500 words maximum) explaining why you are interested in this opportunity and how it will contribute to your professional development, along with a resume or CV.
Your rationale for wishing to become a PRF-ISPP 2023 Correspondent is the most important part of the application. We are interested in candidates aiming to incorporate science communication into their pain research/clinical care careers. Those who are considering careers in science communication are also highly encouraged to apply.
Applications can be submitted via email to Gregory.Carbonetti@iasp-pain.org. 
Who Can Apply?
Applicants must be a trainee/early-career investigator member of IASP (an undergraduate student, a graduate student, a postdoctoral researcher, or an early-career investigator) and attending the International Symposium on Pediatric Pain 2023.
Applications are welcome from basic, translational, and clinical investigators working in any area of pain research, as well as those working in clinical care. Five applicants will be accepted into this program and can be based anywhere in the world. Non-scholarly writing experience can be helpful but is not required.
Deadlines 
Call for Applications Opens: 18 August 2023
Application Deadline: 8 September 2023
Notification Deadline: 11 September 2023
For any questions about the PRF-ISPP 2023 Correspondents Program, please contact Gregory Carbonetti, PhD, at Gregory.Carbonetti@iasp-pain.org.