Editor's note: The North American Pain School (NAPS) took place 19-24 June 2022 in Montebello, Québec City, Canada. NAPS – an educational initiative of the International Association for the Study of Pain (IASP) and Analgesic, Anesthetic, and Addiction Clinical Trial Translations, Innovations, Opportunities, and Networks (ACTTION), and presented by the Quebec Pain Research Network (QPRN) – brings together leading experts in pain research and management to provide trainees with scientific education, professional development, and networking experiences. This year's theme was, "Controversies in Pain Research." Five of the trainees were also selected to serve as PRF-NAPS Correspondents, who provided firsthand reporting from the event, including interviews with NAPS' Visiting Faculty members and Patient Partners, summaries of scientific sessions, and coverage on social media. Here, PRF-NAPS Correspondent Danielle Perro, a PhD candidate at Oxford University, UK, provides coverage of a workshop by NAPS Visiting Faculty member Yoram Shir, McGill University, Montreal, Canada.
When the program for NAPS was first released, my eyes were drawn to Yoram Shir's workshop, "Interviewing and Diagnosing Pain Patients." As someone who chose to pursue a PhD rather than an MD, I've always been curious about the experience of working with a patient to determine an appropriate intervention. Without the 4+ years of additional medical training, Shir guided us NAPSters through a mock consultation with our NAPS Patient Partners – Virginia McIntyre (@Virginia_McI) and Jodi Borenstein (@JodiLB1969).
Shir developed this workshop for his students at McGill University because he feels that pain curricula in medical schools is insufficient to fully understand how to manage pain on the "front lines." Fortunately, the NAPSters got a preview of what medical students can expect, and the experience was enlightening.
The session began with instructions for the workshop's role play. Jodi and Virginia were the patients presenting in Shir's clinic, and as the "consultation" went on, the NAPSters took on a more active role as the "doctors" treating them. While there isn't necessarily a "recipe" for a visit to a chronic pain clinic, Shir outlined a few key things to keep in mind during such encounters.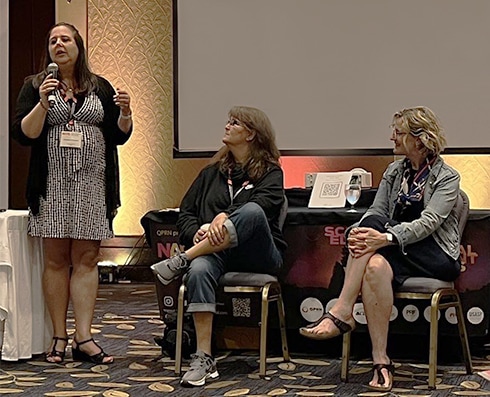 Getting to know the patient
As would be typical in Shir's clinic, it's important to get to know the patients (i.e., Virginia and Jodi). Although Shir started off by demonstrating what a typical visit in his clinic would look like, we went on to "popcorn" around the room – after one NAPSter asked a question, we would all chime in to ask the next question.
Among the NAPSters, the questions we asked focused on better understanding the pain the patients experienced and how it interfered with their day-to-day life. In a pain clinic, this seemed like a logical next step. However, Shir recommended that prior to delving into their pain experience, it was imperative to get to know as much as possible about the individual. This message was one that resonated with me – people living with chronic pain are more than their pain, and understanding who they are is crucial to helping them manage their pain effectively.
What kind of support does the patient have? Do they face "barriers?"
Learning about Virginia and Jodi as individuals was an important first step in their consultation; however, living with chronic pain requires support from friends, family, and the patient's network. So it was important that, as newly minted "pain clinicians," the NAPSters began to ask questions to understand the patients' personal environment. What is your family life? Do you have people at home who can (and do) support you?
These types of questions presented some challenges. Naturally, in the span of a short consultation (e.g., meeting with a new doctor), it can feel like, "opening up the wound," as Virginia stated after the session. Chronic pain can be isolating, and conversations about support can be challenging. I'm grateful we had the patience, courage, and understanding of our Patient Partners during this workshop. They were vulnerable with us about their experience of pain and support structure (or lack thereof). Concomitantly, I observed why these types of questions are so important.
As a result of these probing questions about family, friends, and support, we began to understand the patient's history. Aside from the patient "snapshot" we saw in front of us, we began to understand their journey. In a short time, with the right questions, we learned of their hardships and where support has been lacking. As Shir highlighted at the end of the session, these conversations are critical to understanding past treatments – and looking to the future – what treatments may be best.
Bidirectional communication
In an overburdened healthcare system, you can infer how challenging it must be to forge a patient-doctor relationship. However, building a strong relationship – and trust – is the only appropriate path forward. The patient needs to know that you are actively listening, and that you appreciate their vulnerability and openness. Communication is key.
Having your feelings dismissed or ignored, or being unable to share your full experience, can be devastating. Speaking with Virginia and Jodi, we found that it's unfortunately not uncommon for chronic pain patients to feel this way. We learned that it takes an average of 17 seconds for a physician to interrupt their patients with questions or comments. It was not lost on me that Virginia and Jodi nodded, unsurprised.
Throughout the workshop, Shir made sure that as the "doctors," we were validating the patients' experience and communicating bidirectionally – truly listening to their stories. Although we had many meals and laughs with Virginia and Jodi before this workshop, we needed to establish their trust in a clinical setting.
The logistics for pain management
Only after establishing patient trust can we begin to think about a pain management plan. When considering pain management, Shir made two important notes. First, living with chronic pain is hard, and many people in pain also struggle with their psychological or mental health. Shir mentioned that working together with the patient over multiple appointments to reduce the shame of poor mental health is necessary. It is the role of the clinician to accentuate the message that it is difficult to live with chronic pain and everything that comes along with it.
Second, we were encouraged to consider what medications the patient is taking, how effective those medication have been, and what they've tried in the past. This step is important to determine whether tapering (or gradually decreasing the amount of medication being taken) is necessary before starting a new medication or, in the case of previously unsuccessful treatments, to avoid them. These detailed conversations about past and current treatments help patients and doctors look to the future and personalize pain management.
Lasting impressions
Although I'm not a medical student, I can appreciate how important this type of role playing can be in an academic setting. Someone's lived experiences are far different and more complex than a medical textbook, and a workshop such as Shir's allows for "real world" experience in a controlled setting. However, this workshop did present a challenge. There were a lot of people in the room, making it easier to "go off track" and veer away from the main questions or information we were seeking.
It was interesting to see everyone's differing perspectives, and how they manifested through our questioning – some of the NAPSters are clinically trained, and others live with chronic pain themselves. Although our backgrounds differ, I think we all took something novel away from the workshop. The message that has stuck with me is that for proper pain management to happen, there needs to be a strong patient-doctor relationship. This workshop gave me a new level of appreciation for the challenges of such a consultation. While I won't be going to medical school anytime soon, I am hopeful that future generations of pain physicians will show compassion, empathy, and will last longer than 17 seconds before interrupting their patients.
Danielle Perro is a fourth-year PhD candidate at the University of Oxford, UK. You can follow her on Twitter – @dperro_wrh.