Editor's Note: Since publication of this article, WHO adopted ICD-11, including the new classification system for chronic pain developed by the IASP Task Force. Read the IASP press release here.
After six years of work, an International Association for the Study of Pain (IASP) Working Group led by Rolf-Detlef Treede, Heidelberg University, Mannheim, Germany, and co-chair Winfried Rief, Philipps-Universität Marburg, Germany, in collaboration with the World Health Organization (WHO), has developed a new classification system of chronic pain for inclusion in the upcoming revision of WHO's International Classification of Diseases (ICD), ICD-11.
The new system would, for the first time, provide a single diagnostic code for chronic pain along with other codes for the most common and clinically relevant groups of chronic pain conditions. This system accommodates a view of pain both as a health condition in its own right as well as a symptom that is secondary to an underlying disease. It also takes into account not only the intensity of pain but also pain-related disability and distress, along with psychosocial factors that contribute to the experience of pain.
What could the impact of this initiative be? Including appropriate diagnostic codes for chronic pain offers the potential to improve patient care by increasing access to multimodal pain treatment and by boosting efforts to measure the quality and effectiveness of care. The ICD-11 revision could also make it easier to track the prevalence and impact of various chronic pain conditions, and help inform public policy decisions, including choices by governments and payer organizations to cover the costs of pain treatment.
"These changes are a huge step forward," said Romy Parker, University of Cape Town, South Africa, who was not involved with the ICD-11 revision. "They will help countries by offering coherent chronic pain codes so we can get proper statistics on who is affected by this condition. They will also help individual patients by recognizing that chronic pain is a legitimate condition, so they can get the care and claim the benefits they need."
The classification system was published in a series of papers in the January 2019 issue of PAIN (the papers are freely available here). ICD-11 in its entirety is currently under review by the WHO's Executive Board, a group of 34 international health professionals who advise the organization on its global policies.
Pain and the WHO International Classification of Diseases―then and now
The WHO was founded in the wake of World War II in 1948. As part of its mandate to advance global health, the WHO took on the task of updating what was then known as the International List of Causes of Death, a taxonomy used to track mortality across the globe. The WHO then updated the list to include morbidity, which is the rate of disease in a population, and renamed its effort as the ICD.
Over the years, ICD has been updated to reflect advances in biology and medicine. The most current version is ICD-10, but neither ICD-10 nor previous versions included a systematic representation of chronic pain diagnoses.
"In the beginning, the classification was all about death statistics," said Lars Berg, head of the Collaborating Center for the WHO Family of International Classifications (FIC) in Oslo, Norway, one of the regional centers that support the WHO with ICD maintenance and updates. "Now we want to follow hospital care and outpatient services in different ways. When you think about pain, it's very often a symptom and is related to a specific cause, but not always. It's a difficult thing to classify on its own."
Antonia Barke, Philipps-Universität Marburg, a member of the IASP Working Group, said chronic pain is not adequately represented in the current version of ICD, to the detriment of patients, providers, and researchers.
"There is no real diagnosis for chronic pain by itself in ICD-10. It is something that transcends the boundaries that you find there," she said. "Without the right position in classification systems like the ICD, the real burden of chronic pain is invisible. We can't track it in large international epidemiological studies, and we can't understand who is experiencing it or what may be causing it, or how to appropriately treat it."
Miroslav Backonja, University of Washington, Seattle, US, agrees that the lack of sufficient attention to chronic pain in previous ICD versions has been a significant weakness.
"It's a challenge to find a code that is relevant to the patient sitting in front of you," said Backonja, who was not involved with the new effort. "I work a lot with neuropathic pain, and the current ICD really has limited options for what code I can select. It has general neuropathic pain, but no diabetic neuropathy, which is a fairly common condition."
Picking the wrong code can lead to problems with continuity of care, as well as issues with billing and reimbursement. "You pick the wrong code and the patient's insurance company won't okay the treatment," he said. "Sometimes the ICD just feels punitive."
A new classification system
To address the need for a more robust classification, Treede, bolstered by the success of a German-specific ICD implementation of a more encompassing definition of pain, approached the WHO (Nilges and Rief, 2010).
"The German variant had a code that acknowledged both the somatic and psychological side of pain, helping doctors and patients take the biopsychosocial model of pain more seriously," Treede told PRF, referring to a view of chronic pain as a multifaceted condition with biological, psychological, and social aspects. "It had a major influence on clinical practice in my country, and so we wanted to expand that more globally."
When Treede became president-elect of IASP in 2012, discussions with WHO about an update to chronic pain classifications began in earnest, and he formed a Working Group to develop a practical, comprehensive, and evidence-based classification of chronic pain to be considered for the next planned revision of ICD, the ICD-11. This new revision would be part of WHO's complete overhaul of its classification system, moving from a paper book to a series of interconnected information technology databases. It was a prime opportunity to add in a new approach to classifying pain.
Stephan Schug, a Working Group member at the University of Western Australia, Perth, Australia, said Treede and colleagues recruited experts across disciplines to help create "the best possible definition and coding system for chronic pain." They created a single, overarching "parent" code, "chronic pain," which was defined as pain lasting or recurring for more than three months.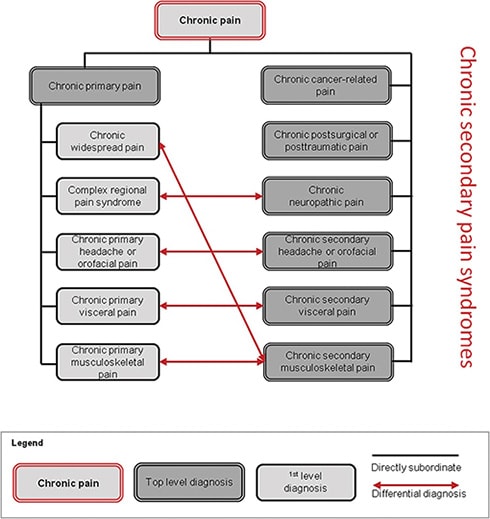 Beneath the parent code are seven other codes for the most common and clinically relevant chronic pain conditions. These include chronic primary pain, and a number of chronic secondary pain syndromes, including chronic cancer-related pain, chronic postsurgical or post-traumatic pain, chronic neuropathic pain, chronic secondary headache or orofacial pain, chronic secondary visceral pain, and chronic secondary musculoskeletal pain.
The Working Group says that with this system, chronic primary pain can be viewed as a disease in its own right, and is subdivided into chronic widespread pain, such as fibromyalgia; complex regional pain syndrome; chronic primary headache and orofacial pain, such as chronic migraine or temporomandibular disorder; chronic primary visceral pain, such as irritable bowel syndrome; and chronic primary musculoskeletal pain, such as nonspecific low-back pain. Pain from the chronic secondary pain syndromes can be viewed at least initially as a symptom of another disease.
The new system also includes "extension codes" for all diagnoses of chronic pain, including for pain severity (a compound measure of pain intensity and pain-related distress and task interference), the temporal characteristics of the pain, and the presence of psychosocial contributors to the pain.
Also of note is that the revisions allow for "multiple parenting," where a given "child" (disease) can belong to more than one parent. For instance, chronic painful chemotherapy-induced polyneuropathy (child) would belong to chronic cancer-related pain (parent) and chronic neuropathic pain (another parent). The Working Group says this is an improvement because it allows for more flexibility compared to the more linear structure of previous ICD versions.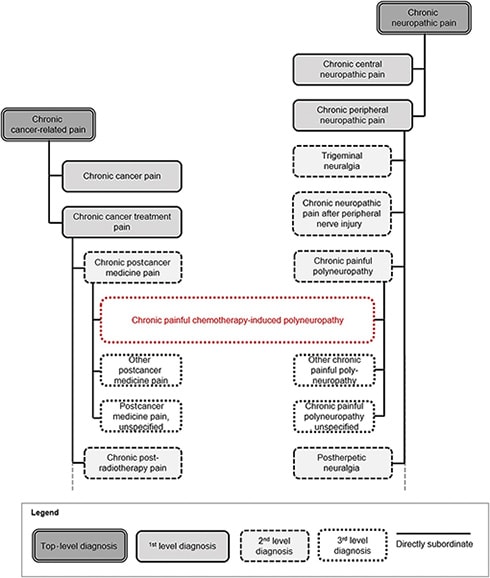 What could the impact be?
Both the Working Group as well as outside experts not involved with ICD-11 say the initiative could have significant beneficial consequences in a number of ways.
"If you can't be coded, you can't appear in statistics," said Schug. "With this new code, chronic pain will become much more visible and be increasingly recognized as a serious healthcare problem."
Barke said that the ICD-11 classification system for chronic pain will help validate the experience of people with pain and improve care.
"In the past, many patients who experienced chronic pain reported that they were told it was all in their head and were sent for mental health treatment. Often they felt they were not taken seriously," she said. "The new codes in ICD-11 emphasize that pain is real and something you can talk to your doctor about, offering better pathways to better treatments early on."
Treede briefly presented the revisions for ICD-11 at the 2018 IASP World Congress on Pain last September in Boston, US, not only requesting feedback on the new classification system but also encouraging advocacy efforts from the pain research and clinical communities to help convince the WHO to accept the revisions. So far, he said, the feedback has been positive.
Timothy Mwiti, an anesthesiologist and pain physician at the University of Nairobi School of Medicine, Kenya, told PRF he is already using the ICD-11 pain classification system in his clinical practice. After being invited by IASP to familiarize himself with the proposed changes last year, he wanted to see how well the new system worked in actual patient care. He said he finds it comprehensive and easy to use.
"It takes into account the type of pain and the likelihood of the existence of mixed pain types," according to Mwiti. "The biggest benefit of the system is the ease of explaining to chronic pain patients what their diagnosis is all about. It also allows more concise communication among healthcare providers within the context of multidisciplinary pain management."
Babita Ghai, Postgraduate Institute of Medical Education and Research (PGIMER), Chandigarh, India, said she was happy to see the ICD-11 revision include psychological and social aspects of pain.
"ICD-10 covered the biological aspects and the intensity of the pain," she said. "But there was no assessment of how chronic pain affects a patient's social life or their psychological well-being. Treating pain requires looking at it as a biopsychosocial entity," according to Ghai, who also did not take part in developing the ICD-11 revision.
Fiona Campbell, Hospital for Sick Children, University of Toronto, Canada, an anesthesiologist and president of the Canadian Pain Society, believes the new classification system will provide an opportunity to help further chronic pain education among healthcare professionals.
"In a climate where veterinarians get five times more pain education than medical students, this new framework can help educate healthcare professionals about the nature of chronic pain diagnoses and appropriate pain management," according to Campbell, who was also not part of the new effort. "The changes also legitimize chronic pain with a proper diagnosis, thereby helping to reduce stigma in healthcare settings and in society."
Bumps in the road ahead
Still, many challenges remain, particularly in how ICD-11 will be put into practice.
For instance, Backonja said that while he appreciates the addition of a single code for chronic pain, he worries that it is not informative enough and will be difficult to implement in the United States, where delivery of care and reimbursement are tied to the codes.
"The insurance companies determine whether or not to cover a procedure based on the code," he said. "It will take a lot of time for healthcare organizations and payer organizations to implement these new codes, and it's not clear how they may influence what is and what is not covered for a particular condition, while patients will be short-changed until the system settles."
Catherine O'Leary, a managing director in the Healthcare and Life Sciences division at consulting firm KPMG in New York who worked on implementing ICD-10 across the United States a few years ago, said this is a valid concern.
"The reality is that there are a number of approved conditions with particular treatment protocols that each insurer comes up with based on their own standing guidelines. They use evidence-based medicine and other criteria to determine what will be in or out of their payment scope," she explained. "The challenge will be how providers and payers come to an agreement around what should fit in this new classification and what is the most appropriate, and therefore reimbursed, treatment for the patient."
Parker added that applying the new codes will be a challenge for physicians, requiring them to first know more about the causes of pain.
"Making a chronic pain diagnosis involves a clinical reasoning process," she said. "There's no single diagnostic test that will tell you it's this kind of pain or that kind of pain. Because of the big gap in training about chronic pain pathologies, this may be an initial barrier to use until people are trained up."
What's next?
The new chronic pain classification, along with ICD-11 as a whole, is now awaiting approval by the WHO's Executive Board and presentation at WHO's annual World Health Assembly meeting in May for a vote.
"The Executive Board has been advised about the depth of the revisions," said James Harrison, Flinders University, Adelaide, Australia, co-chair of the WHO Joint Task Force, the steering group for ICD-11. "They believe the ICD-11 is ready to be put before the World Health Assembly for approval."
If the revision is approved, it will be some time before the changes take effect. "It would likely be a year or two between the day the WHO accepts the ICD-11 and the day it becomes the official classification," Harrison said. But it could be many years after that, even a decade, before the users of ICD in various regions or organizations fully implement the new platform.
If ICD-10 is any indication, the US won't see ICD-11 for some time, according to KPMG's O'Leary. Even though ICD-10 was accepted in 1990, it wasn't rolled out to WHO countries until 1994, and the US didn't start requiring the use of the classification until 2015.
"It's not easy to learn how to start coding in a different classification system," she said. "Payer and healthcare organizations need to figure out how it changes billing and reimbursement. It requires extensive upgrades to all the different technologies that accept codes, from your drugstore to your doctor's office medical billing software. It also requires a lot of training. Doctors and clinical staff need time to learn all the differences and nuances involved so they know they are using the codes accurately."
Countries with single payer or self-pay systems may have an easier go at switching over to the new system, but, as Parker said, physicians in such countries, too, will have to go through robust training about the causes of pain to understand and use the new codes. And as ICD-11 is the WHO's first fully electronic disease classification system, using it will also require significant information technology investment, which could be a challenge for poorer nations.
In the meantime, Treede said there is still much work to do on the pain classification system itself. The Working Group needs to fine-tune it, identifying other parents of secondary pain syndromes as well as cleaning up any potential inconsistencies or redundancies. But he is buoyed by how far the Working Group has come, and the positive impact the new codes could have.
"To redefine chronic pain, to acknowledge the biopsychosocial aspects of pain, to be able to track the impact of chronic pain, to help patients get the treatments they need—these are all important things," he said. "And we think our classification is a way to reach all of these aims."
What do you think of the new classification system for chronic pain being proposed for inclusion in ICD-11? Share your thoughts with the pain community by leaving a comment below.
Kayt Sukel is a freelance writer based outside Houston, Texas.
Editor's note: PRF's news coverage is editorially independent of its publisher, IASP. All editorial decisions about our reporting on IASP activities are made solely by the PRF editors.