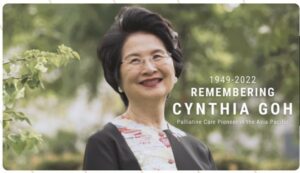 IASP is saddened to learn of the loss of Professor Cynthia Ruth Goh-Fung, MBBS, PhD, FAMS, FAChPM, FRCP(Edin), FRCP, who died peacefully at her home in Singapore on 13th February 2022. She was an Associate Professor at the Duke-NUS Graduate Medical School and Senior Consultant in the Division of Supportive & Palliative Care at the National Cancer Centre in Singapore. She was an accredited specialist in Internal Medicine and Palliative Medicine and had a PhD in Molecular Biology.
Cynthia is synonymous with the palliative care movement in Singapore and beyond its shores. An extraordinarily dedicated and talented leader, she started the first department of Palliative Medicine at the National Cancer Centre in 1999. She was involved with the formation of the Asia Pacific Hospice Palliative Care Network (APHN) since 1996 and spent many weeks leading APHN projects to help build capacity for palliative care in countries like Bangladesh, Myanmar, Sri Lanka, Bhutan, and India. She is very fondly remembered by a whole host of her "disciples" in these countries, where she brought hope when there was none.
As President of the Pain Association of Singapore in the early 2000's, she will always be remembered as the Founding President of ASEAPS in 2004, now a Federation of IASP. With her extraordinary vision, she helmed ASEAPS and brought the leaders of pain medicine in six ASEAPS countries together in a spirit of camaraderie and friendship, which is unparalleled.  ASEAPS would not have been the success it is today without her.
A superb teacher and mentor, Cynthia led an inspirational life devoted to the relief of pain and suffering across Asia. She leaves behind a great legacy and shoes that will be hard to fill.
Cynthia served on the IASP Council from 2008 to 2013 with great distinction. During her term, she initiated the IASP Southeast Asia Pain Camp and was involved as organizer and faculty member in all the five pain camps which have been held from 2011 to 2019. Through these pain camps, over 150 young healthcare professionals from Southeast Asia, South Asia, and the Pacific Islands have been introduced to the concept of holistic multidisciplinary pain management based on the biopsychosocial understanding of pain; many of these have gone on to become leaders in clinical pain management and pain societies in their home countries.
Cynthia has done a lot more in developing palliative care services and education in Singapore the Asian region. IASP is fortunate that Cynthia gave a plenary lecture at the IASP World Congress on Pain in Boston in 2018, where she shared her vision, her wisdom, and her work in pain and palliative care education. She was truly a great leader, a great teacher, and a great friend to so many people in Asia and around the globe. She will be very greatly missed by all.
The President and IASP Council and staff extend their sincere condolences to Cynthia's family. May she Rest in Peace.