A Conversation with Professor Paul Cameron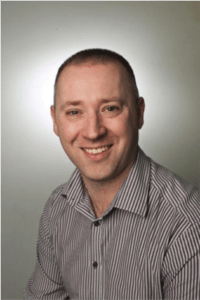 Professor Paul Cameron qualified as a Chartered Physiotherapist in Edinburgh, followed with postgraduate qualifications in Pain, Orthopaedic Medicine, and Organisational Change in Healthcare before completing his PhD (Medicine) at the University of Dundee, U.K.  He is the current Specialty Advisor to the Chief Medical Officer in Scotland, former National Lead Clinician, and National Coordinator, for Chronic Pain with the Scottish Government.  He has clinical, managerial, strategic, and policy responsibilities as the Head of the NHS Fife Pain Service in Scotland, visiting Professor at the School of Medicine, Cardiff University, National Advisory Committee member for the Scottish Government, and Vice-Chair of the European Pain Federation Advocacy Committee.  He is actively involved in research as Chief/Principal Investigator, and has authored numerous peer-reviewed articles as well as internationally recognised guidelines including; SIGN 136 'Management of Chronic Pain in Primary Care', U.K.'s Faculty of Pain Medicine 'Core Standards for Pain Management Services in the U.K.', Scottish Government's 'Guideline on the Management of Pain in Children and Young People' and 'Quality Prescribing Strategy for Chronic Pain'.  He was also a recent co-author on a seminal paper on the use of the new ICD-11 coding for chronic pain in the leading PAIN Journal.  Professor Cameron regularly presents at international and national conferences and his speaking commitments have included the House of Lords, the Welsh Assembly, the EU Commission, and the 2020 German EU Presidency.
How did you get started in pain research/management? What do you do in your current job? Why did you choose back pain?
I started in pain management and research as a Chartered Physiotherapist working in a Pain Clinic.  I felt strongly that it was important to recognise that pain management was an area that required specialist skills and sought to develop my own through both clinical and academic routes.  Since that time, I have been involved in the practice of pain management and treatment in a busy NHS Pain Service.  I have also become involved with national and international pain policy and engagement roles as well as academic research.
I currently head a multidisciplinary Pain Service in the NHS supporting people living with pain in the community and secondary care settings.  Working with Doctors, Physiotherapists, Occupational Therapists, Pharmacists, Psychologists and Nurses who, combined, work tirelessly to improve the quality of life for those living with pain has been an honour for me.  Working in healthcare it is always apparent that large scale changes to the infrastructure available to manage pain and other long-term conditions must start at a national level with governmental support.  In Scotland, my work, along with a significant number of others, has realised some of the potential for national changes, although there remains much work to be done.  I have had the great pleasure of working with patient advocacy groups and am passionate in ensuring their inclusion in all national programmes.  The adage 'no decision about me, without me' remains true in all pieces of work related to patient care and those living with and managing pain.
Have your research interests changed throughout your career? What are you currently studying?
Working in an area that can be complex, fascinating and distressing in equal measure means that my research interests have remained varied within the field of pain.  I have a keen interest in the rehabilitation of those with pain, the overuse of medications, and the underuse of other, safer, alternatives e.g., exercise.  I have studied the efficacy and understanding of supported self-management in different age groups and behavioural approaches to improving exercise and movement use.  I also have an interest in the basic science and neuroscience behind pain manifestation.  Lastly, I believe that education on pain and its management amongst under- and post-graduate health professionals is lacking and that research highlighting this has been poorly translated into educational institutions.  Thus, translating research findings to clinical, and educational, practice remains a strong interest of mine.
What do you think are the current challenges in managing the global burden of back pain?
I think some of the current challenges relate to the disparity in pain management approaches and access across the globe.  The difference in resource availability between high- and low-middle income countries is vast.  Although, simply transferring the overuse of pain medication and often extravagant use of interventions in developed countries would not be a simple solution to the disparities noted.  Indeed, such an approach that fails to take into account local values, infrastructure and preparedness would be irresponsible.  Improvements in community education and further development of national policies to take into account local challenges would go some way to address this. However, back pain is not simply a health care problem and extends to other spheres.  Indeed, determinants of health include education, social networks, income and employment amongst others.  The challenge is to bring all these elements together in a coordinated fashion, making any approach to help those living with back pain relevant to the population it serves.
What do you think are or will be the next hot topics in back pain research and management?
I believe that hot topics in back pain research and management will change through the increase utilisation of patient voices in the design and development of research programmes.  Focus on research that will answer questions related to the understanding of pain will continue, but with a focus on translating that understanding in a manner that individuals with pain will be able to engage with and embed into their lifestyle.  Research on the impact of pain education with much younger age groups will provide interesting information on how these individuals manage pain as they grow older, and whether improved understanding of back pain translates to improved management and decreased incidence.
How have you seen back pain prevention and management strategies change throughout your career?
I have seen back pain prevention and management strategies go in and out of fashion over the years.  However, I have also seen a positive change in the focus of management strategies being centred around those living with pain and their opinions at the centre of designed strategies.  This approach has offered clinicians and researchers a unique and richer perspective than that offered by professionals alone.
Nevertheless, it remains true that back pain continues to be a significant global burden and that the majority of management strategies have limited efficacy.  Those approaches based on exercise and education seem to be the most effective yet, conversely, are the least utilised or advocated.  It continues to be the case that expensive short-term approaches that offer little relief are more frequently used, despite the evidence.
It is my hope that the Global Year About Back Pain 2021 will; highlight the evidence for and against the existing management approaches of back pain; offer further information for identifying research gaps and bring together professionals and those living with pain.  Our collaborative approach aims to access and assist the wider community of pain professionals and those living with pain, so we can continue to improve on the treatment and management of back pain on a global scale.