About this Global
Year Campaign
In the United States alone, nearly 100 million surgeries take place annually. More than 80% of these surgical patients report postoperative pain. Over 70% of emergency department visits are due to pain; acute headache alone accounts for 2.1 million of these visits. Despite substantial advances in pain research in recent decades, inadequate acute pain control is still more the rule than the exception. Numerous studies show that fewer than half of postoperative patients receive adequate pain relief. Patients arriving at emergency departments with significantly painful conditions fare no better, as emergency medicine physicians tend to underuse pain medications. Acute pain is also a common problem in family practice, sports medicine, and especially in internal medicine.
Though adequate acute pain treatment can improve patient quality of life and satisfaction with care, as well as enhance clinical resource management and reduce long-term costs of care, acute pain remains undertreated. The Global Year Against Acute Pain campaign aimed to raise understanding of acute pain among the general public and bring to light the challenges clinicians face when treating acute pain.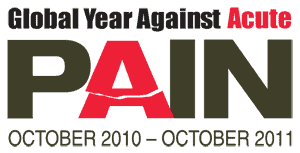 By providing free factsheets, publications, and more, we hope this campaign helps lead to better patient outcomes, and contribute towards IASP's vision of global pain relief.
Managing Acute Pain in the Developing World
Pain: Clinical Updates, Volume XIX, Issue 3 (June 2011). Author: Ramani Vijayan
Psychological Interventions for Acute and Chronic Pain in Children
Pain: Clinical Updates, Volume XIV, Issue 4 (September 2006). Author: Christina Liossi
Acute Pain and Immune Impairment
Pain: Clinical Updates, Volume XIII, Issue 1 (March 2005). Author: Gayle Page
Letter from the President
Letter from the President
I am pleased to announce the 2010-2011 Global Year Against Acute Pain campaign. This year, the IASP-sponsored initiative will draw attention to the persistent problem of acute pain, the most commonly experienced pain (e.g. surgery, childbirth, trauma). Although acute pain is treatable with currently available medications and techniques, a large gap between evidence and practice results in widespread under-treatment.
Access previous global year campaigns and relevant fact sheets, interviews, and more resources.